Low price doesn't mean skimping on safety equipment anymore; some lowest-priced new cars include six standard airbags.
It's no surprise that small, economical cars dominate the list of ten lowest-priced new vehicles for the 2007 model year. They range in price from the $9,430 Chevrolet Aveo5 to the new Dodge Caliber, which is priced around $13,500.
Note that prices are current at post time for the start of the 2007 model year, and do not include taxes, destination charges, option, fees or incentives. We have included just the least expensive version of each of these vehicles.
While most of these inexpensive cars do not carry a lot of amenities, many in this range feature extensive safety equipment. Side airbags or side-curtain airbags—once only found on high-end luxury automobiles—are standard on the Chevrolet Aveo and Aveo5, Hyundai Accent and Elantra, Nissan Versa and Dodge Caliber. ABS is available on almost all these vehicles as well.
Because these vehicles tend to be small and don't feature very powerful engines, they have the benefit of achieving excellent fuel economy. Every vehicle on this list gets at least 32 mpg on the highway, and the Toyota Yaris actually achieves 40 mpg—one of the top fuel misers in America.
For just a few more dollars, it is possible to get a larger, more utilitarian vehicle. The Chevrolet Colorado (regular cab, 2WD) starts at just $13,810 and is the least expensive pickup truck available. The new Jeep Compass is the least expensive SUV, with a base price of $15,425 for a 2WD version.
Here is a list of the ten least expensive* 2007 model year vehicles available in America:
Chevrolet Aveo5 SVM - $9,430
The Aveo5 is the five-door version of Chevrolet's entry-level passenger car. Both the Aveo5 and its sedan sibling get fresh styling for the 2007 model year; a longer, taller and wider body; an improved suspension; a chrome-accented grille; three-dimensional headlights; available front fog lights and bold, round taillights; and a radio antenna incorporated into the rear glass. Currently available in SVM or LS trim, the Aveo5 is powered by a 103-horsepower engine and is rated at 37 mpg on the highway.
Hyundai Accent GS 3-Door - $10,415
Hyundai's entry-level passenger car was introduced in 1995 to replace the Excel, which was the first Hyundai imported to the U.S. in 1986. Last year the Accent sedan was redesigned, and for 2007 the hatchback moves to the new generation. The inexpensive Accent GS is well-equipped with side-curtain airbags, an eight-way adjustable driver's seat, a 60/40-split fold-down rear seatback, a rear spoiler and a tilt steering wheel.
Toyota Yaris 3-Door - $11,050
New to the U.S. market, Toyota's Yaris subcompact passenger car replaces the ECHO as a 2007 model. Yaris is offered as a 3-door hatchback and a 4-door sedan, with a Sport trim level for the sedan. Both the hatchback and sedan are powered by a 106-horsepower 1.5-liter engine with either a 5-speed manual or 4-speed automatic transmission. Standard equipment includes air conditioning, a tilt steering wheel, tinted glass, intermittent windshield wipers with mist control, and dual sun visors with vanity mirrors.
Chevrolet Aveo LS 4-Door - $11,950
Chevrolet's entry-level sedan, the Aveo was redesigned just a few years after it was initially introduced. The new Aveo sedan is bigger inside and out with more standard and optional features. The new look represents the new global face of Chevrolet design for the more than 120 countries where Aveo is sold. Aveo was designed by Giorgetto Giugiaro's Italdesign studios in Turin, Italy, and features a roomy interior and peppy performance.
Saturn Ion 2 Sedan - $12,230
Saturn's entry-level sedan that replaced the original S-Series for 2003, the Ion is also available as a quad coupe with its industry-first dual rear access doors. The Ion 2—the least expensive vehicle in the Saturn lineup—comes standard with a CD player, power door locks, a 60/40 split-folding rear seat, and an available anti-lock brake system (ABS) and side-curtain airbags.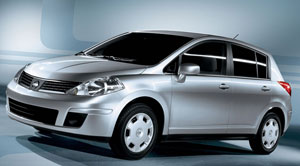 Nissan Versa 1.8S - $12,550
New to the Nissan family, the 5-door, entry-level, Versa subcompact hatchback that replaces the Sentra as the most affordable vehicle in the automaker's lineup. Built on Nissan's "B" platform, the Versa name reflects the "versatile space" provided by the roomy interior and cargo area. A number of amenities are available for Versa that are typically reserved for higher-end vehicles, such as a Bluetooth Hands Free Phone System and a Rockford Fosgate-powered subwoofer. Side airbags and a side-curtain airbag system are standard on the Versa.
Chevrolet Cobalt LS - $13,050
Debuting for 2005 to replace the then-aged Cavalier, the Cobalt is Chevrolet's compact sedan and coupe. For 2007 Cobalt receives a slight horsepower increase, a standard AM/FM stereo with CD player and auxiliary input jack, a three-spoke steering wheel, and Sport Red Tint as a new exterior color. With a 148-horsepower engine and a 5-speed manual transmission, Cobalt is rated at 34 mpg on the highway
Hyundai Elantra GLS - $13,395
Hyundai's best-selling model in America, the Elantra compact sedan was first imported to the U.S. for 1991. For 2007 Elantra is completely redesigned, with fresh exterior styling and a higher level of safety. Both side airbags and side-curtain airbags are standard, as is an anti-lock brake system (ABS) and Electronic Brake Force Distribution (EBD). The Elantra's 2.0-liter engine makes the small sedan an Ultra Low Emission Vehicle (ULEV) while achieving up to 36 mpg. The new Elantra goes on sale this fall.
Ford Focus 3-Door S - $13,480
Focus is Ford's compact car available in four distinct body styles: 3-door hatchback, 5-door hatchback, 4-door sedan, and 4-door wagon—with the 3-door being the least expensive. One of Ford's best-selling passenger cars, the Focus features occupant-sensing technology that will turn the front-passenger-seat airbag on or off depending on the size of the seat occupant. Side airbags are optional on the Focus, as is an anti-lock brake system (ABS).
Dodge Caliber SE - $13,575
An all-new model from Dodge, the Caliber redefines the entry-level sedan with bold styling and versatility that by most standards would define Caliber as a crossover SUV. Dodge offers the Caliber with a number of fun features, including an chilled bottle holder in the glove box, a rear dome light that doubles as a flashlight, and a convenient holder for an MP3 player that can be plugged into the audio system. Caliber's 148-horsepower engine is teamed with a 5-speed manual transmission to deliver 32 mpg on the highway.
[
source
]